James Dolan McIe July 18, 1923 - December 21, 2003
James Dolan McIe, my father, was born on July 18, 1923 in Pickens, West Virginia to Charles Everett McIe and Lela Evans Demastus McIe.
Everyone talks about their heroes and people they admire. My father was my hero! He was unassuming, gentle, willing to help anyone and possessed an inner strength that was heroic. He was always there for me...whether I was 16 or 56,

whether I had a small problem or a large problem.
From him, I learned about life...everything from how to treat people to a work ethic to baseball to driving and loving automobiles. He never sought the spotlight but was always willing to help whether it was the church, Knights of Columbus, the Rockville Senior Center, other seniors... or Katie and me.
(Here the Montgomery Journal pictured him in October, 1996 awaiting the start of the Teddy Bear March to Shady Grove hospital.)

Before Dad joined the Navy, he was in FDR's Civilian Conservation Corps (CCC) created in 1933. He worked as a member of Company 1509 (Project SCS-30) located at Camp William Green, 5 miles NW of Fresno, Ohio. This picture was taken at Camp William Green.

He joined the Navy in 1942. My father married my mother in San Diego on May 11, 1946. I was born in early 1947 while my father was in Shanghai. He saw me for the first time in Terra Alta, West Virginia when I was six months old. When he arrived from the Far East, my great-grandmother ushered him in to see me before he even saw my mother.
Taken in March, 1948...at age 25, my dad posed in my great-grandmother's backyard in Terra Alta.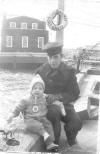 After leaving Terra Alta, we moved to Annapolis, Maryland where Dad was stationed. This picture of the two of us (I'm the smaller of the two) was taken in March, 1948 on the Navy docks.
Tours in Kwajalein, Honolulu, Hawaii and Astoria, Oregon occurred before our trip to Guam.

This photo is from the passport (Number 37381) used by my mother and I to travel to Guam and Japan. Issued on September 14, 1955 in Washington, D.C., we used the passport in 1956 as we moved from Guam to Sasebo, Japan on the lowermost island in the chain, Kyushu. On April 17, we arrived at Itazuke Air Base. Two years later on September 19, 1958 we left Japan from Tachikawa Air Base arriving in Hawaii the same day.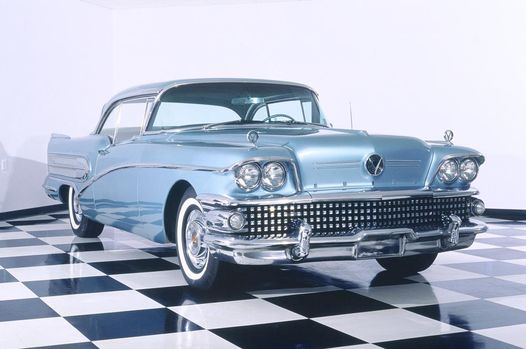 He taught me how to drive an automobile in a 1958 Buick Century...much like the one shown here. ...but our Century was white with red interior! We bought it in Hawaii shortly before my father was transferred to the Washington, D.C. area in 1960. We drove it across the country from California to Maryland finally settling in Rockville, Maryland when I was 13.
In a snowstorm early on the morning of December 14, my mother called 9-1-1. My father was taken to Shady Grove Hospital in Gaithersburg, Maryland. One week later, at age 80, on December 21 at 6:07 pm, my father passed away in the Intensive Care Unit while my mother (Geneva to her family and Judy to her friends), myself, my wife Katie and longtime family friends, Penny and Jack Kopf held his hands.
I will never forget my father, his lessons and the moment of his passing.
We miss you Dad!
The Washington Post ran the following obituary on Christmas Day, 2003:
On Sunday, December 21, 2003.
Beloved husband of Geneva McIe and devoted father of Daniel McIe.
Born July 18, 1923, Mr. McIe was a retired US Navy veteran including service in an Underwater Demolition Team in WWII. He also served in the Korean War. He was an active member of the Knights of Columbus, an usher at St. Mary's church in Rockville and a member of the Fleet Reserve Association and the Veterans of Foreign Wars.
He was preceded in death by his mother, Lela, his father Charles, four sisters (Joyce McIe, Bonnie Stiles, Thelma Fisher, Helen Karnes) and one brother, Jack McIe.
Mr. McIe is survived by his wife Geneva (Judy) Davis McIe and only son, Daniel McIe and daughter-in-law, Kathryn McIe, a loyal friend Laddie, and two brothers, Paul McIe and Bill McIe.
A memorial service will be held sometime in the future.